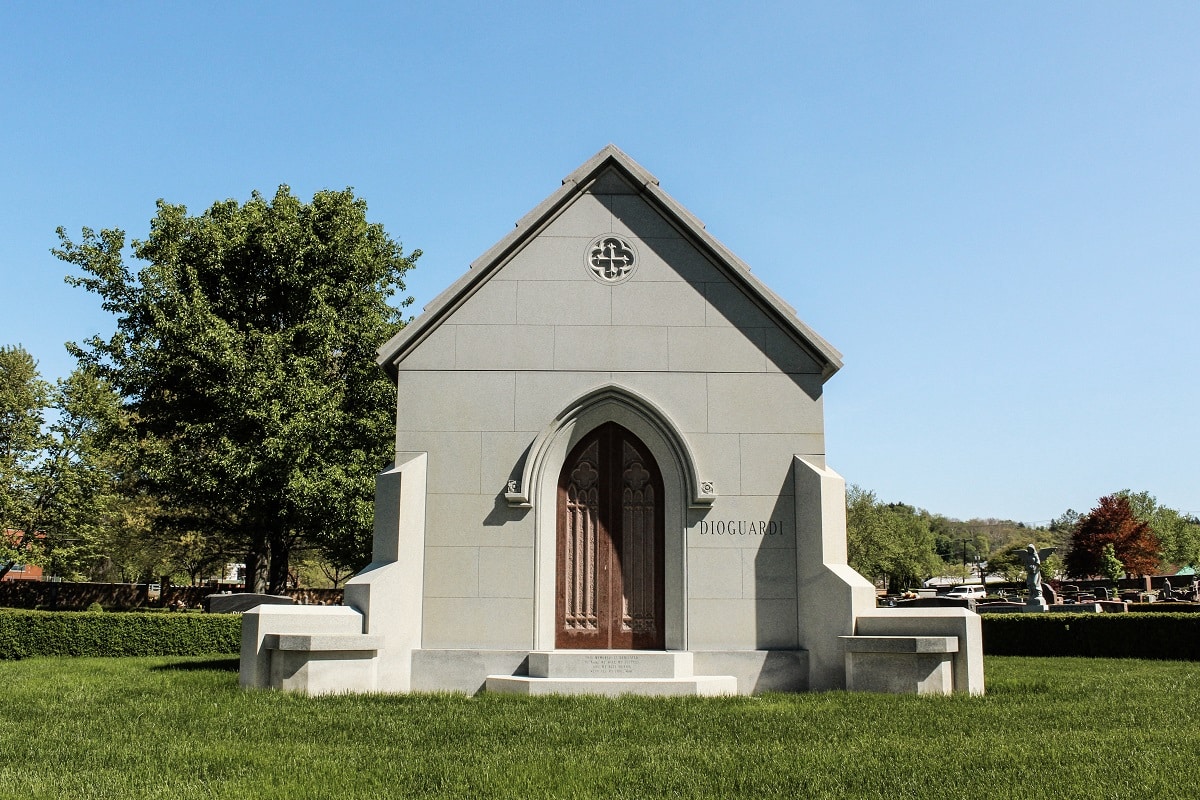 Five Ways to Customize a Mausoleum for Your Loved One
Published: November 8, 2022 | Updated: November 10, 2022
When someone passes away, their loved ones often want to find a way to commemorate their life. One way to do this is by customizing a mausoleum for them. You can design a custom mausoleum in many different ways and in this article, we'll discuss five of the most popular options. This above-ground burial is becoming increasingly popular to honor our family members who have passed and with good reason! They offer a lot of flexibility when it comes to customization, allowing you to create a unique space that is perfect for your loved ones. Before diving in, let's examine some of the different types of mausoleums and their benefits.
What types of mausoleums are there?
There are many different types of mausoleums depending on your needs. Here are a few examples.
Private Mausoleums
A private mausoleum is – private. Private mausoleums provide families with a personal setting to pay respects to loved ones. These indoor mausoleums can include a single tomb or multiple crypts, housing anywhere from one individual to an entire family. For example, a private family multi-crypt mausoleum (also called family mausoleums) can lay various family members to rest together. In contrast, a single crypt mausoleum houses an individual.
Garden mausoleums
A garden mausoleum offers crypts for caskets and is used to display urns or other significant works of art to memorialize a loved one. There isn't indoor space, so you install benches around the structure for prayer and reflection. Sometimes gardens of fresh flowers surround the mausoleum.
Community mausoleums
A community mausoleum (also called a public mausoleum) is a less expensive alternative to private mausoleums. Families can purchase a private area inside a structure to lay a loved one to rest and allow others to visit.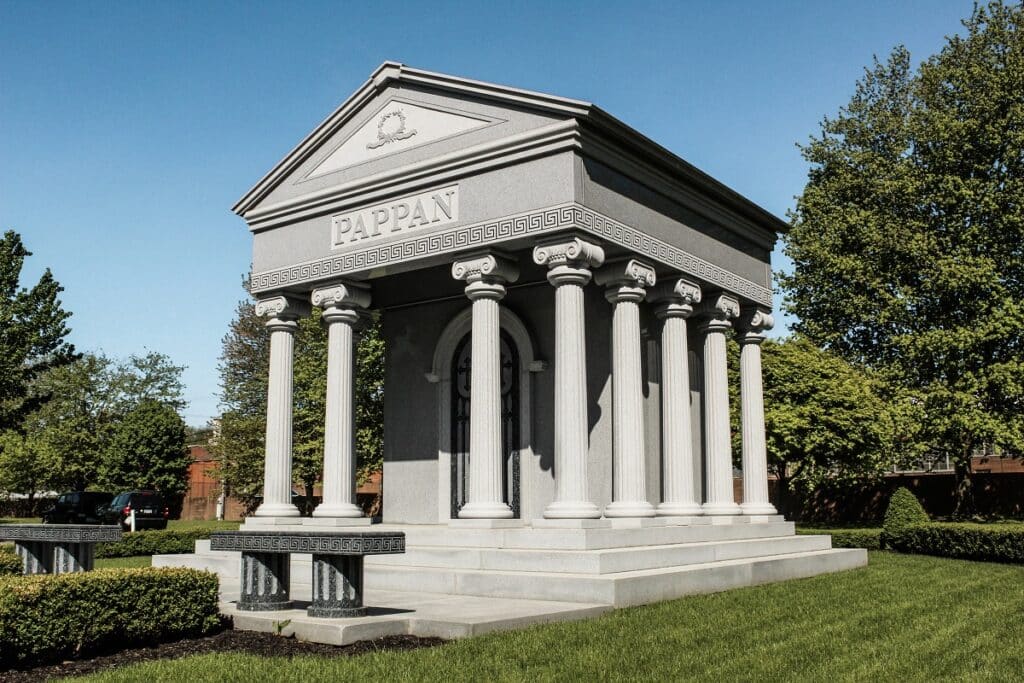 What are the benefits of a custom mausoleum?
Mausoleums can be designed and built to your exact specifications making them an excellent option if you want to be specific about your burial plan. In addition, mausoleums offer a permanent reminder of your family's legacy. They can be a place for future generations to gather and remember their loved ones.
The protection and flexibility of a custom mausoleum make them the perfect match for individuals or families interested in crafting a permanent place showcasing their hobbies, interests, and legacy. To learn more about the benefits mausoleums provide, check out our article, "Five Reasons to Choose a Mausoleum for Your Loved Ones."
What factors should you consider before building a custom mausoleum?
Before choosing a custom mausoleum for your loved one, consider their personality and interests. Then, you can honor and memorialize them by selecting a mausoleum that reflects their personality and interests. Some questions you can ask include:
What do they love?
What are their passions?
How do you want to remember them?
Additionally, take into account the size and location of the mausoleum. Choose a size that will comfortably fit your loved one's casket or urn and any other family members who may lay to rest there.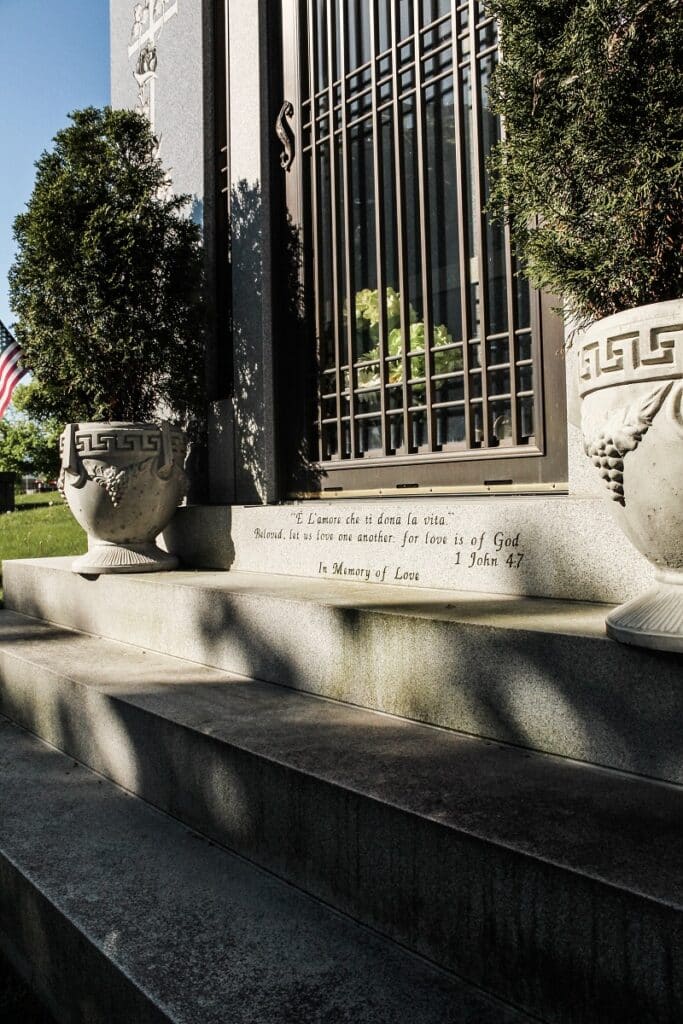 Five Ways to Customize a Mausoleum
1. Granite Color
Granite is an excellent choice for a mausoleum, monument, or memorial. Its non-porous, moisture-resistant material provides excellent protection from the elements so your mausoleum can remain strong for generations to come. In addition, its smooth finish prevents cracks, pits, and bumps. You can also customize it with beautiful, unique, and vibrant colors. A couple of options for granite colors include:
Mahogany
Barre Gray
Impala Black
When you've decided on the perfect color for your mausoleum, you can further customize the interior and exterior to enhance its uniqueness and personability.
2. Interior and exterior
If you want to customize your mausoleum so it looks just as you imagine, you have lots of options. The exterior is the first thing loved ones will see when visiting and paying their respect. Some external customizations include:
Benches
Decorative columns and moldings
Roofs and doors
Depending on your enhancements, your mausoleum can provide a high-class look from a distance. Additionally, the interior is where loved ones will gather, reflect, and memorialize. A personalized ambiance can lead visitors on a peaceful journey of reflection on a loved one's hobbies and legacy. Some interior customizations include:
Benches
Engravings/etchings
Alters
Maybe you're choosing a color scheme that fits your loved one's personality and tastes. Perhaps you're designing a decorative bench where visitors can rest. Whatever it may be, you can customize a mausoleum's interior and exterior to match your needs.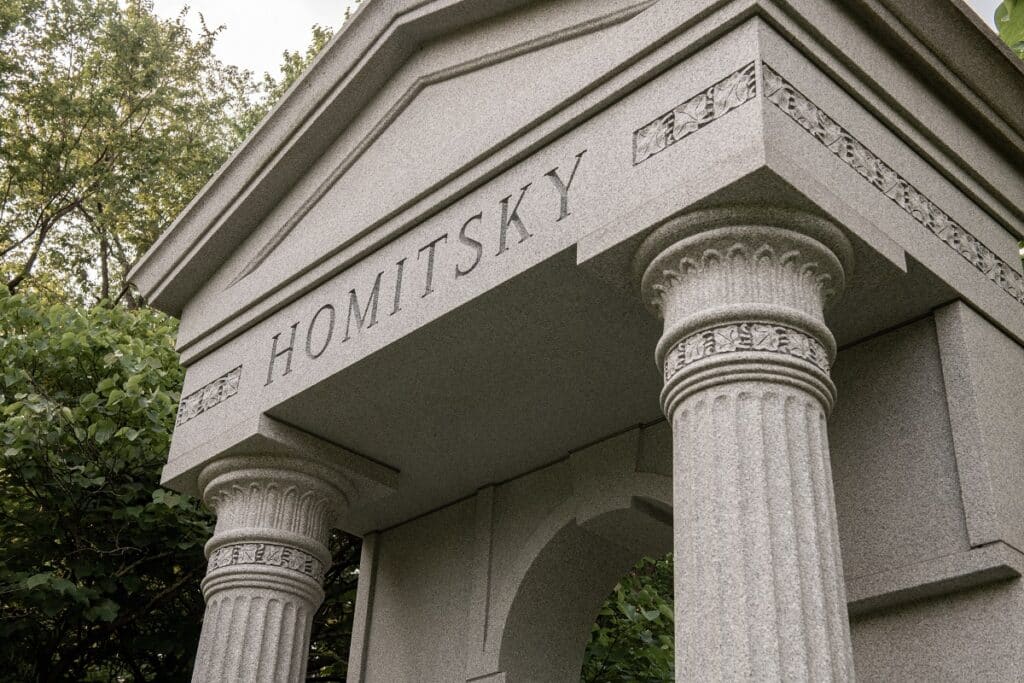 3. Etchings and engravings
Etchings and engravings allow you to add custom patterns, designs, or words to your mausoleum. This level of customization means you can make your mausoleum genuinely unique to your family. From a loved one's favorite quote to custom artwork, Dio + Co. can make your vision a reality.
4. Decorative columns and moldings
Adding columns and moldings to a mausoleum allows it to better match the personality and taste of the person or family at rest. You can choose columns or moldings based on personal taste or style preference. Some customizations include:
Decorative columns
Crown molding
When choosing columns and moldings, consider whether you want them to match someone's taste or if you're going for aesthetics. Regardless, our specialists can guide you through the entire process.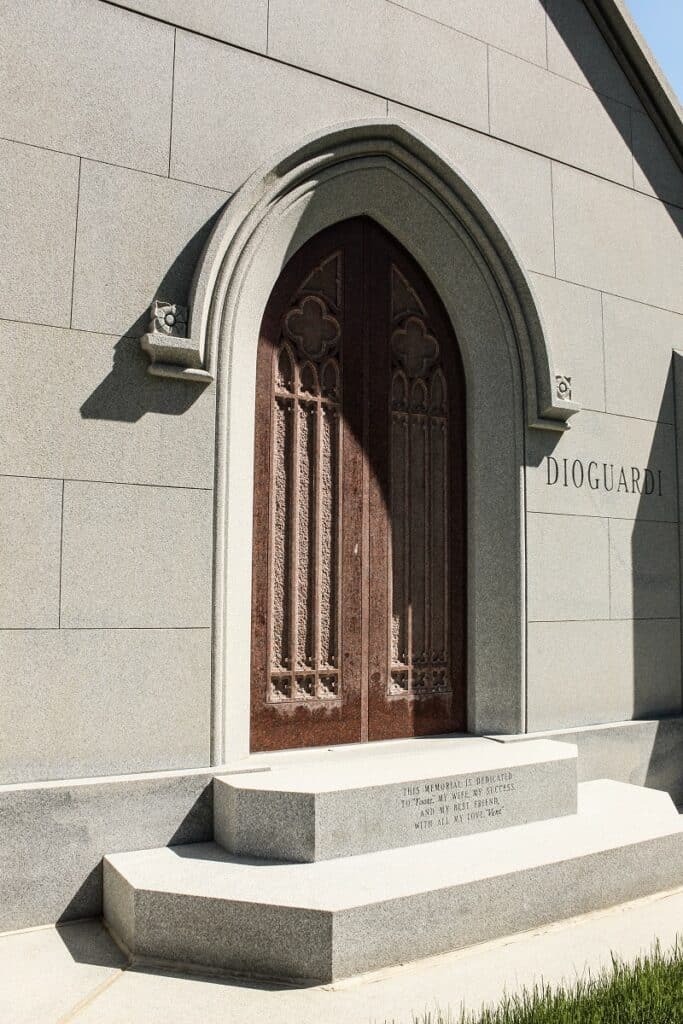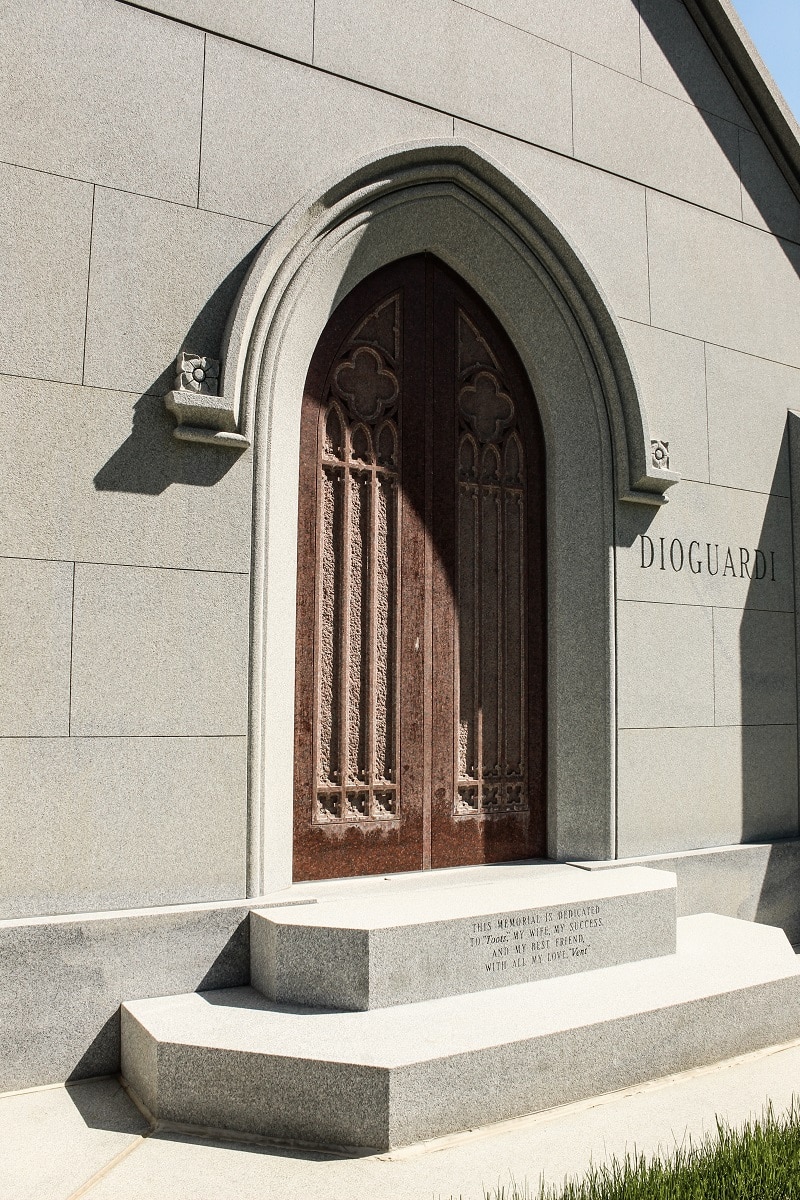 5. Roofs and doors
Decorative columns and moldings can help a mausoleum stand out from the pack. Still, roofs and doors will enhance the protection and functionality of walk-in mausoleums. Some roof options include:
No matter what type of roof you choose, you can choose a bronze door or have bronze plates built into the mausoleum. In addition, you can decorate doors with custom artwork, lettering, or etchings to enhance your mausoleum's personality further. Finally, customizing the roof and doors is yet another way to personalize your loved one's remains in their own unique space.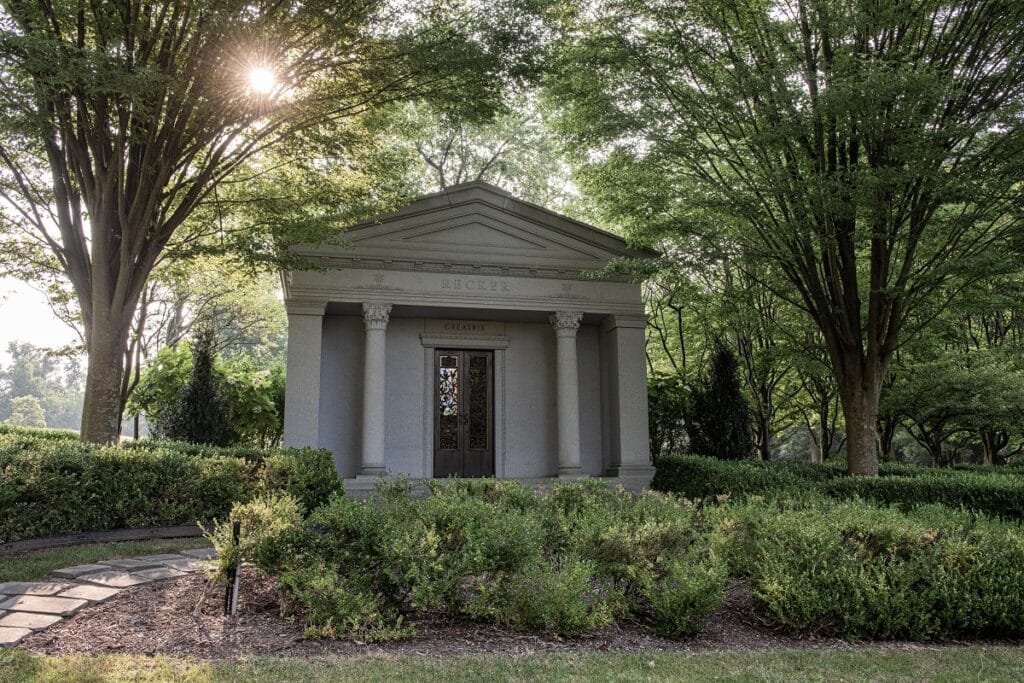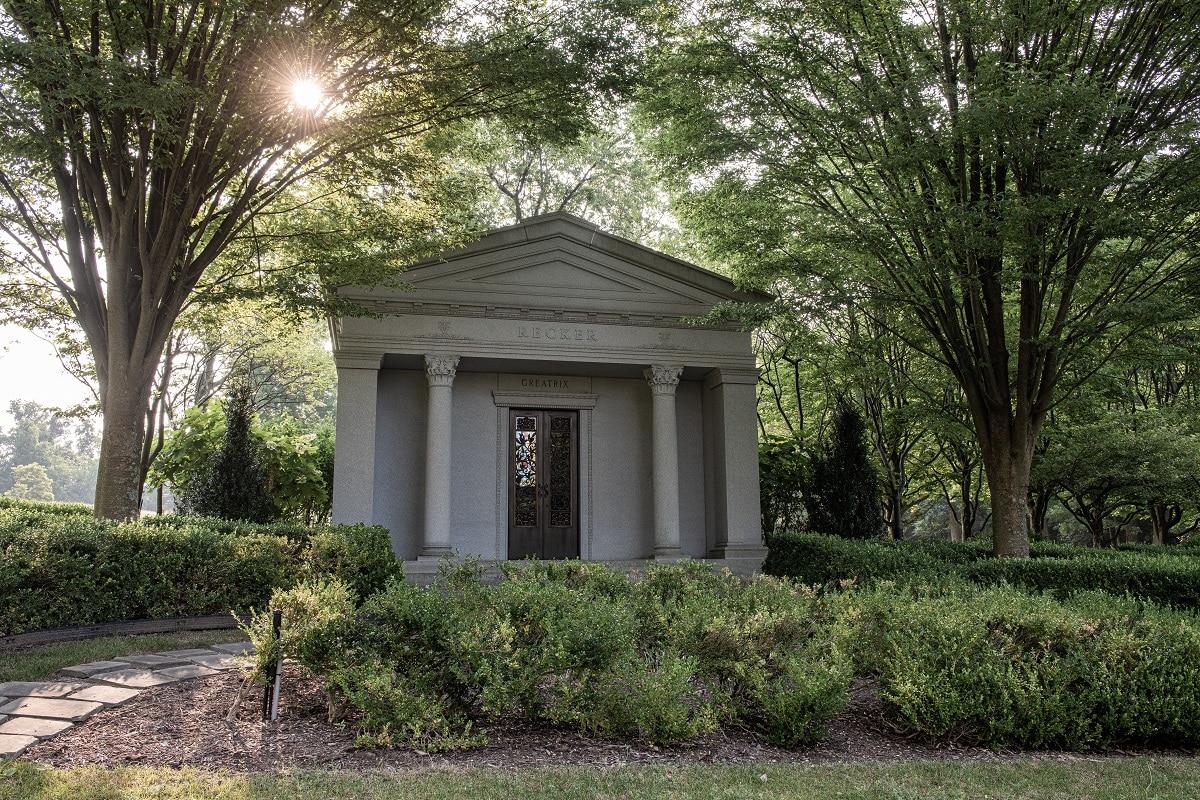 Is a mausoleum right for you?
Customizing a mausoleum may be the perfect match if you're looking for a peaceful final resting place to keep your family's legacy alive. With excellent protection from the weather and many customizations available, mausoleums are a solid choice for families looking for a unique experience.
If you need some inspiration then don't forget to check out our portfolio. At Dio + Co., we aim to make your experience peaceful and stress-free from the initial design concept through the final installation. Start building a custom mausoleum with us for the following benefits:
You can design and build a mausoleum to your exact specifications. You have the freedom to create a mausoleum that reflects your unique personality and values.
Multiple family members can rest together in peace. You can lay all your loved ones in one place, ensuring they are always nearby.
A permanent reminder of a loved one's impact and legacy will be left behind. A family mausoleum is a tribute to all who have passed away and will serve as a reminder for future generations.
A gratifying experience: Our team handles everything from design concept to construction and installation, so you don't have to worry about anything!
Want to learn more? See what Dio + Co. can do for your mausoleum. If you're ready to get started, contact us today.
Learn why we've been so successful since 1934.
Contact us for a free quote or to get your questions answered. We ship nationwide!
Posted in Mausoleums, Tips and Advice